SID, Serbia – Every day, thousands of refugees and migrants stream through Serbia, one leg of their perilous journey towards safety and stability. So far this year, one million migrants and refugees have entered Europe, contributing to potentially record-breaking global displacement figures, according to the UN Refugee Agency.
In Serbia, an estimated 13 per cent of refugees and migrants are women, who face increased risks of violence and barriers to reproductive health care, said Irena Vojačkova Sollorano, the UN Resident Coordinator in Serbia.
These issues can be life-threatening. Uprooted women and girls are especially vulnerable to abuse and exploitation, and reproductive health problems are a leading cause of ill health and death for women and girls of childbearing age in many parts of the world – especially in humanitarian settings.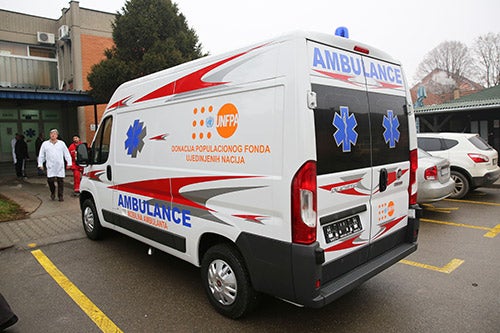 UNFPA provided this mobile clinic to a health centre in Šid. Another mobile clinic has been procured for a health centre in Vranje. © UNFPA
To address these needs, on 11 December, UNFPA donated a mobile health clinic to the health centre in Šid, a major transit point for travellers.
Another mobile clinic has been procured for the health centre in Vranje, and medical exam tables and ultrasound equipment are being distributed to health facilities in Presevo, Dimitrovgrad, Bosilegrad and Belgrade.
Leaving a nightmare behind
Syrian refugee women travelling through Serbia described leaving behind a nightmare in their home country.
"Everything we owned in Syria was demolished," Amena, 35, said as she was receiving a UNFPA-provided dignity kit in Šid. Dignity kits contain menstrual hygiene supplies, soap, clean underwear, and other important items for women and girls.
"I had to leave for the sake of my family," Amena continued. "Now, I hope will find a better life somewhere in Europe, where there is peace and stability. I hope my children will have better future."
Fatima, 52, also escaped the brutal conflict in Syria.
"I had to flee my home with my son. Along the way we got separated. I fell and my group left without me," she told UNFPA while she was being treated for a leg injury.
"I know that my son made his way to Netherlands by now. I am getting better now, and I want to reunite with him as soon as possible."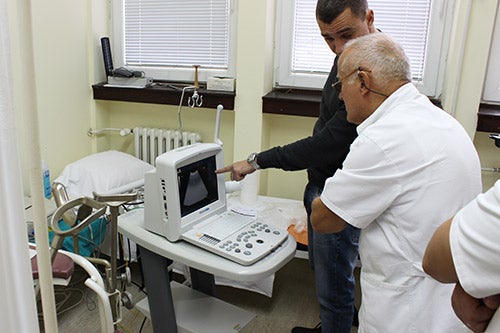 Medical exam tables and ultrasound equipment have been provided at a health centre in Dimitrovgrad. © UNFPA
Other refugee women were in need of counselling, information on sexual and reproductive health, or help dealing with gender-based violence.
Pregnant women were seeking antenatal care, and new mothers were in need of post-natal services.
Expanding assistance
The UNFPA-supported mobile clinics are equipped with gynaecological exam tables and ultrasound equipment, enabling health workers to address a variety of reproductive health concerns. UNFPA is also distributing health information in Arabic, English, Farsi and Urdu.
Additionally, UNFPA-supplied dignity kits have been delivered to over 4,300 women and girls in Serbia.
"These donations will help us to achieve greater quality of preventive and health care programmes at the local level for women living in or transiting through Serbia," said Vesna Knjeginjic, the Assistant Minister in the Ministry of Health.
UNFPA is also delivering mobile clinics in areas receiving high volumes of refugee and migrant traffic in the Former Yugoslav Republic of Macedonia.