Ensuring rights and choices for all
12 August 2019
Marking of the International Youth Day 2019
Belgrade, 12 August 2019 – Young people are central for the achievement of the Sustainable Development Goals, this message is being reaffirmed with the new UNFPA new corporate strategy for adolescents and youth, "My Body, My Life, My World!" launched today in New York on International Youth Day. "Young people realizing their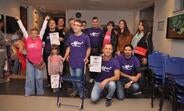 11 March 2019
IWD: Advancing women's rights in Serbia
Safety, equality and empowerment of women in Serbia is still a topic that requires more attention, more action and more engagement primarily by women themselves, with steady support by the government, the policy makers...
National Strategy on Ageing in Serbia

My Body, My Life, My World is UNFPA's new global strategy for adolescents and youth. My...

The Sexual and Reproductive Health of Women and Adolescent Girls with Disabilities...