UNFPA hereby solicits a quotation for the following goods:
"Increase digital literacy of older persons living in rural areas – Procurement and distribution of 50 mobile phones"
The COVID-19 pandemic and measures introduced to curb the virus spread, have disproportionately affected older generations and vulnerable groups. The effects of the crisis are complex and multiple, disturbing the economy and affecting particularly those at-risk-of-poverty populations. In alignment with the need for recovery actions, the Social Housing and Active Inclusion Programme (SHAI) program, funded by the EU and implemented by the UNOPS, is designed to strengthen the capacities at the national and local level for social housing programs accompanied by social inclusion measures for the most vulnerable beneficiaries in Serbia.
1. About UNFPA and Purpose of work
The United Nations Population Fund (UNFPA) is the United Nations agency focused on sexual and reproductive health, youth issues and population dynamics. In the area of sexual and reproductive health and rights, the UNFPA helps countries to advocate and ensure universal access to sexual and reproductive health, promote reproductive rights, reduce maternal mortality and accelerate progress on the SDGs to empower and improve the lives of vulnerable populations. UNFPA advocates for the equal rights of Roma, and in particular for the health and empowerment of women and youth. UNFPA works to raise awareness about the need to harness its opportunities and address its challenges. It has long experience promoting the rights, protection and health of vulnerable categories, advocating for the rights and health in emergency contexts, including UN COVID-19 Response.
2. Service Requirements/Terms of Reference (ToR)
Background information:
Within the project component targeting specific situations of older persons, and in line with its unique mandate, UNFPA CO will support 50 older persons living in the most vulnerable households in rural and remote areas around Kragujevac, Sombor and Uzice by providing them with mobile phones each.
Objective(s)/Task(s):
The selected entity is expected to execute/provide the following:
Delivery of 50 mobile phones to the premises of the Red Cross of Serbia (Mozerova 74a, Zemun) that are in line with technical criteria described below.
Mobile phones should meet the following technical criteria (performances):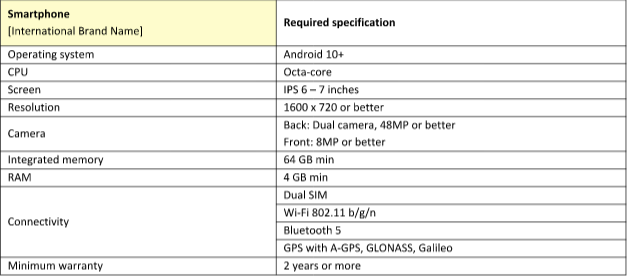 Timing / Schedule:
Distribution of 50 mobile phones to the Red Cross of Serbia, Mozerova 74a, Zemun, Belgrade no later than April 12-15, 2022.
3. Questions
Questions or requests for further clarifications should be submitted in writing to the contact person below:
Name of contact person(s): Tina Anicic
Email address of contact person: anicic@unfpa.org
The deadline for submission of questions is 31 March 2022, 11:00 AM Belgrade Time. Questions will be answered in writing and shared with all parties as soon as possible after this deadline.
4. Content of quotations
Quotations should be submitted in a single email whenever possible, depending on file size. Quotations must contain:
a) Technical proposal, including the following technical requirements:
Legal requirements and experience:
 Officially registered legal entity for the scope of work requested by the terms of reference (valid APR report);
 At least two year of experience in selling the items that are the subject of purchase.
b) Price quotation, to be submitted strictly in accordance with the PRICE QUOTATION FORM (at the end of document).
Both parts of the quotation must be signed by the bidding company`s relevant authority and submitted in PDF format.
5. Instructions for submission
Proposals should be prepared based on the guidelines set forth in Section 4 above, along with a properly filled out and signed price quotation form, and are to be sent by email to the contact persons indicated
below no later than: 04 April 2022, 15:00 PM Belgrade Time.
Name of contact person(s): Serbia Country Office
Email address of contact person(s): procurement.serbia@unfpa.org
Please note the following guidelines for electronic submissions:
● The following reference must be included in the email subject line: RFQ Nº UNFPA/SRB/RFQ/2022/003 – [Increase digital literacy of older persons living in rural areas – Procurement and distribution of 50
mobile phones];
● Proposals, including both technical and financial proposals, that do not contain the correct email subject line may be overlooked by the procurement officer and therefore not considered;
● The total email size may not exceed 20 MB (including email body, encoded attachments and headers). Where the technical details are in large electronic files, it is recommended that these be sent separately before the deadline;
● Any quotation submitted will be regarded as an offer by the bidder and does not constitute or imply the acceptance of any quotation by UNFPA. UNFPA is under no obligation to award a contract to any bidder as a result of this RFQ.
6. Overview of Evaluation Process
Quotations will be evaluated based on the technical proposal and the total cost of the services (price quote).
The evaluation will be carried out in a two-step process by an evaluation panel. Technical proposals will be evaluated for technical compliance prior to the comparison of price quotes.
Kindly find Price quotation form and other relevant information in the attached file.